Next Door Studios / Next Door Raw - Chance Encounters with Zak Bishop & Ryan Jordan
Launching 16th March at NextDoorStudios.com. Zak Bishop isn't exactly looking for a hookup, but when he happens by a handsome stranger jacking off in a public stoop, Zak seizes the opportunity for what it's worth. Ryan Jordan doesn't make a habit of public masturbation, but he tells Zak that he lives with his mom and there's not much he can do when he gets the urge.
Zak tells him he's got a place of his own, and if Ryan doesn't mind trading public strokes for private loads, then he should follow Zak home. Truth be told, Ryan would probably follow Zak's hot ass wherever he led, and Zak could do a lot worse than bagging this big dick stranger to bring home. Should be a fun evening for the both of them.Enjoy!
Zak Bishop & Ryan Jordan Have a Chance Encounter they Never Forget at Next Door Studios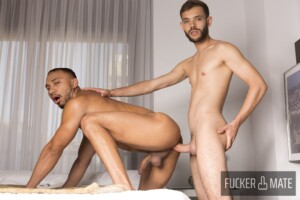 FuckerMate – Morning Lust with Tommy Dreams and Dani Brown Fuckermate's Columbian stud muffin Dani Brown has just woken up. Dani cannot stop thinking about his master fuck with Tommy Dreams. Lucky for us we are invited inside his head, and go back to the time when the duo hooked up. Tommy appears fully exposed
Read More »