Viktor Rom & Drew Dixon - Lucas Entertainment
In the latest scene from Lucas Entertainment's "Barebacking Brent Everett". Stallion Viktor Rom and British Bottom superstar Drew Dixon hook up. So we all know by now that Drew Dixon has made a name for himself as a hungry bottom. Viktor Rom has established himself in the annuals of porn, for being one of the best alpha tops in history. Bring these guys together and you can be certain of one hell of a scene.
In this scene, the aim was to push Drew to his bottoming limits, and Viktor is the perfect guy to do it. Buckle yourself in and prepare for ass play like you have never seen before. Viktor and Drew have an on-screen chemistry that we have not seen in a while. This is one that you simply have to watch.
British Bottom Drew Dixon gets the Alpha Viktor Rom Treatment at Lucas Entertainment
Tell us what you think of this movie - Comment Below.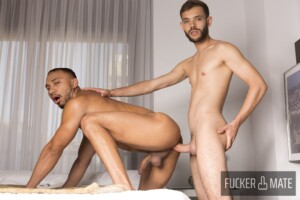 FuckerMate – Morning Lust with Tommy Dreams and Dani Brown Fuckermate's Columbian stud muffin Dani Brown has just woken up. Dani cannot stop thinking about his master fuck with Tommy Dreams. Lucky for us we are invited inside his head, and go back to the time when the duo hooked up. Tommy appears fully exposed
Read More »