French Twinks - Naked Twink Challenge with Justin LeRoy & Felix Maze
The FrenchTwinks.com are continuing their sexually charged US journey, and have stopped off in southern California. American Twink Felix Maze meets French Twink Justin LeRoy, and Doryann Marguet has the perfect idea. What better way to break down any language barrier, than with a crazy naked game. This is not just any old game, this involves cake mix and plenty of frosting. 
The rules of this game are clear, whoever loses has to suck the winner. Well we could say that there will be no losers here, and we would be right. We wont spoil the surprise as to who wins but all we can say is their is a whole load of cock sucking all round. Cock slurping turns to frenzied fucking with a cum explosion not to be missed! 
Who Wins the Naked Twink Challenge? Justin Leroy or Felix Maze?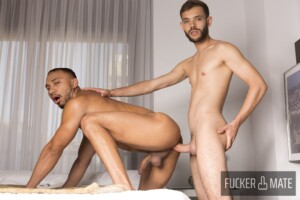 FuckerMate – Morning Lust with Tommy Dreams and Dani Brown Fuckermate's Columbian stud muffin Dani Brown has just woken up. Dani cannot stop thinking about his master fuck with Tommy Dreams. Lucky for us we are invited inside his head, and go back to the time when the duo hooked up. Tommy appears fully exposed
Read More »