French Twinks - US Road Dick Part 3 with Paul Delay, Doryann Marguet & Chris Summers
The epic FrenchTwinks.com "US Road Dick" continues with episode 3. Still living it up in the city of sexual sin Las Vegas, there is trouble brewing for Paul Delay and Doryann Marguet. The lovers are at a crossroads and they are finding it difficult to set the boundaries of their relationship. Thankfully they reach a solution and decide the best way to make up, is by having rampant sex. 
The guys are joined by American boy Chris Summers, and they are soon down to business. Chris gets a mouthful of Paul and Doryann's dick, and he takes it in turns to suck them off. All hot and horny its time for some anal action. They create a fuck train with every hole filled. This is one scene that you do not want to miss! 
Enjoying a Threeway Fuck Paul Delay, Doryann Marguet & Chris Summers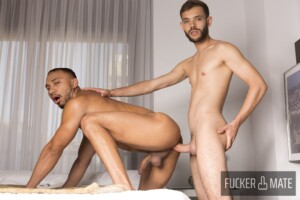 FuckerMate – Morning Lust with Tommy Dreams and Dani Brown Fuckermate's Columbian stud muffin Dani Brown has just woken up. Dani cannot stop thinking about his master fuck with Tommy Dreams. Lucky for us we are invited inside his head, and go back to the time when the duo hooked up. Tommy appears fully exposed
Read More »