Gabriel Phoenix -
The Interview
When we first came across Gabriel Phoenix back in 2016, the moment we locked eyes on to him we were certain that he would become a star. We kept checking out his on his social media, and eagerly awaited his on screen debut. His first scene was a smash hit and over the past couple of years his momentum has gained and he is dominating our screens with his unique good looks, delicious body and his massive…! Whenever we have met him at the "Prowler Awards" he was always been chatty, charming and cheeky. We have always wanted to sit down and have a one to one. So grab a drink, sit comfortably as we are thrilled to introduce "Gabriel Phoenix – The Interview".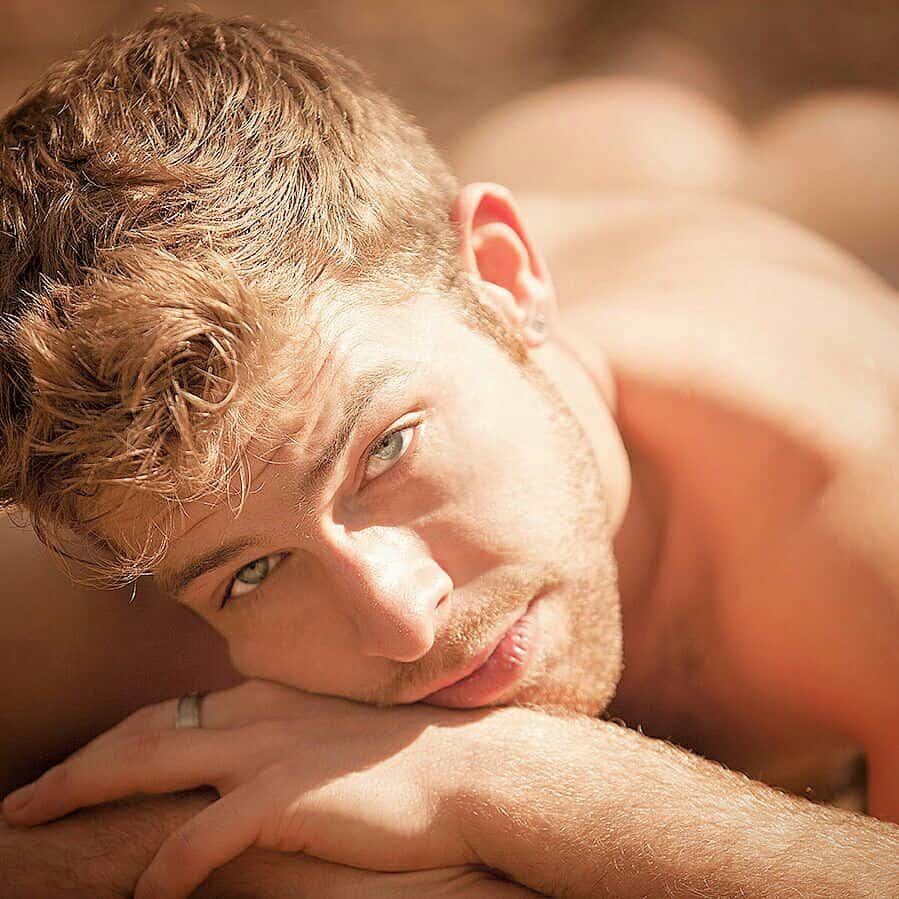 What made you decide that you wanted to be in the Gay Porn Industry?

Being in the Porn industry is something I'd always considered; I mean, as I always say, the majority of us send our nude or sex pics and vids online so already have them in the ether! I just thought "hey, why not get paid for it?"

Your First "Duo" shoot was way back in Feb 2016, Do you remember that day and if so what do you remember the most? 

I believe my first duo shoot was for UKNakedMen, who were wonderful to shoot with as they made me feel so relaxed! It was with Killian James who, despite controversy was a really nice scene partner who was very comforting and encouraging! People still say to me that they have watched the "scene where I am sniffing the trainers/sneakers" recently, so I am proud that my first duo scene was a notable one!

What is the most fun that you have ever had on set?

To be honest tell me a set on which I have not had fun! I'm always talking, singing and laughing my ass off so it's always an enjoyable experience! I always have fun working on big projects like 'Guyspotting' or 'An Investor Calls' because you get o spend a long period with great friends! In terms of sheer sexual pleasure, I have to say my scene with Teddy Torres tops the poll as I was literally cumming just from his dick inside me haha

Have you ever been paired with on screen partner that you have thought…

A. OMG he is so hot how am i gonna control myself. (if so how to get through a scene like this)

B. Im not really feeling this (if so how do you get through a scene like this)?

4. A) Haha i'm gonna be diplomatic and say every scene partner has qualities that make me think "oh my god he is so hot" and then you meet them and realise, that they are only human too! 
 B) And yes i've had days when i'm not really feeling it. Generally it's not because of a scene partner's attractiveness but just an off day. Scene partners are predetermined by you so it's never a surprise
Talk us through a shoot day. 

An average shoot day? Well I wake up, have a piece of toast…haha I joke; in all seriousness shoot days differ depending on studio and role. Generally shoot days consist of starvation, motivation and procreation…just without the babies 🙂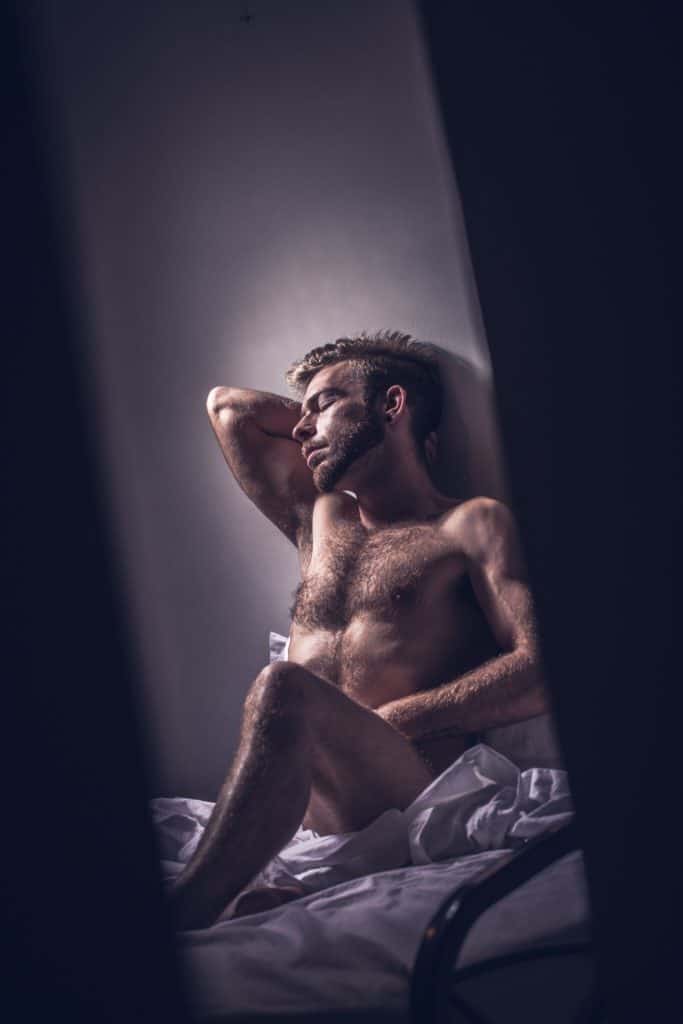 .
 So far in your career what has been the best shoot that you have done and what made it so special?

I can't just choose one shoot! Shoots can be special for so many reasons and I've been lucky enough to have so many 'special' experiences because of shoots! I would say again, for me; the really special shoots are the one's where so many of your friends or 'porn family' get to reunite and spend time together #SoGay! 

Is there anyone that you would like to work with – Studios – Stars. If so who and why?

There are several; I mean I have been lucky enough to work with a lot of the guys I have wanked off to so that's awesome! Amazingly, though, there is always new and gorgeous talent popping up everywhere just waiting to be pumped haha 

Studio-wise; my sights are set on the states! I'd absolutely love to do a tour, filming for different companies stateside.
Who do you admire the most in the industry and why?

There are several people I admire within the industry for very diverse reasons. I admire stars like Kayden Gray who aren't afraid to face criticism in order to help support and educate the community in issues of sexual health and mental stability! I adore guys like Mickey Taylor, who always support, encourage and promote talent within the UK; providing work and a platform for elevation! And I have utmost respect for studios like UKHotJocks, who remain true to making their models the sexiest they can be, portraying them in a really way and keeping a passion for what they do!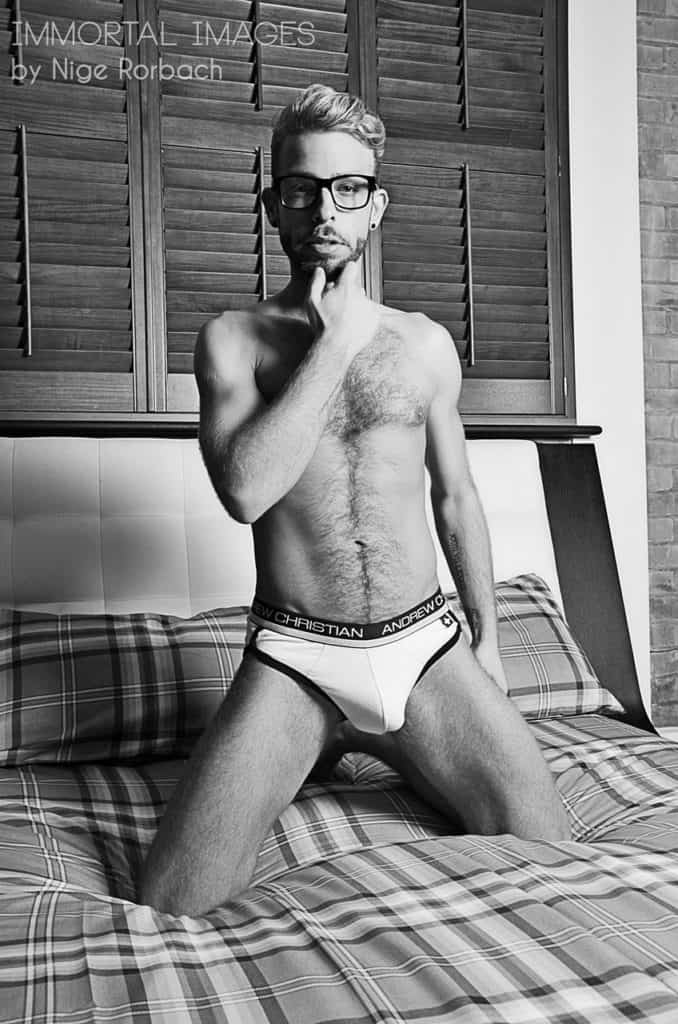 What do you think are your greatest qualities (both aesthetically and Personality)?

Haha well, i'm a geek, so one of my greatest but most annoying qualities is my thirst for knowledge; i'm the kind of guy that will listen to a topic of conversation that I know nothing about and think, "hey, i'm gonna go research this" and spend days absorbing everything I can regarding said topic! 

When it comes to your personal life….

Are You Single? Spoken For? Looking for Love?

Oh wow! I'm gonna set my relationship status to 'it's complicated' and leave it there! Haha I like to keep that aspect of myself to myself! The fans can have everything else, but that is just for me 🙂

How does you family / friends feel about your working in porn? Have you ever had any negative feedback – if so how did you deal with it?

When I began there was concern from friends and family as to whether or not it was the right thing to do and whether I would have doubts or regrets. However, they have been nothing but supportive and seeing how i've grown and responded to the industry they now love it and speak about it with pride! I mean, my straight brother has always attended award shows to support me and has been the guy you can hear screaming the venue down when I have won!

How does it feel to have a "fan" Twitter account that supports you aka @phansofGPhoehix. Do you work with them, speak with them to keep them up to date with your upcoming work etc?
I mean i'm honored to have a "Phan" page! I was actually approached early on by an anonymous fan, who saw the potential for success within me, with the idea! They have been amazing! Showing unparalleled support, so I can't thank them enough, it really is overwhelming! 

Do you feel that you are a Role Model? What do you like to project into your social media. Have you ever had any crazy fan interactions?

Ha I believe i'm more of a sex symbol than role model  If I am a role model, I would like to think it is for what I have tried to promote; that being different is amazing and should be unashamed! I'm a big supporter of using social media to support those suffering with issues related to mental health and connecting people who would otherwise feel isolated an restricted! So I hope that that message has been received even by one person out there and then I can consider my social media a success.

Do you think that you have changed since you have been in the public domain? If so what has changed? 

 I mean physically I have changed dramatically! I've beefed up and became a little bit sexy, if I do say so myself!! 🙂 I think it has changed my views when it comes to sex and what I desire from a relationship or interactions now! It's been empowering because I am no longer a slave to my hormones and I value a connection just that little bit more!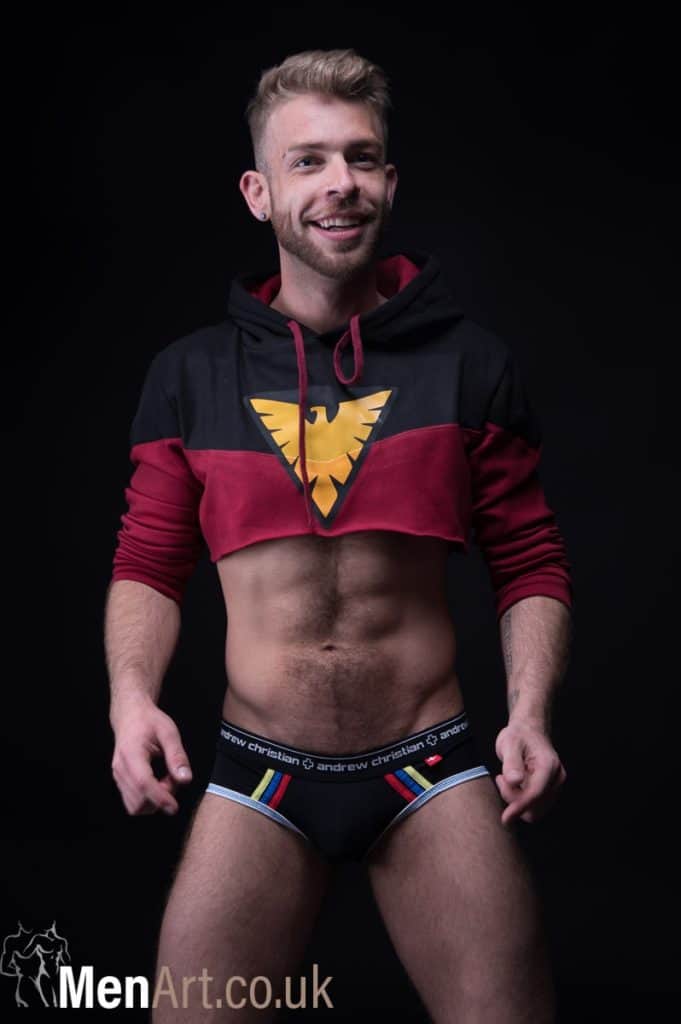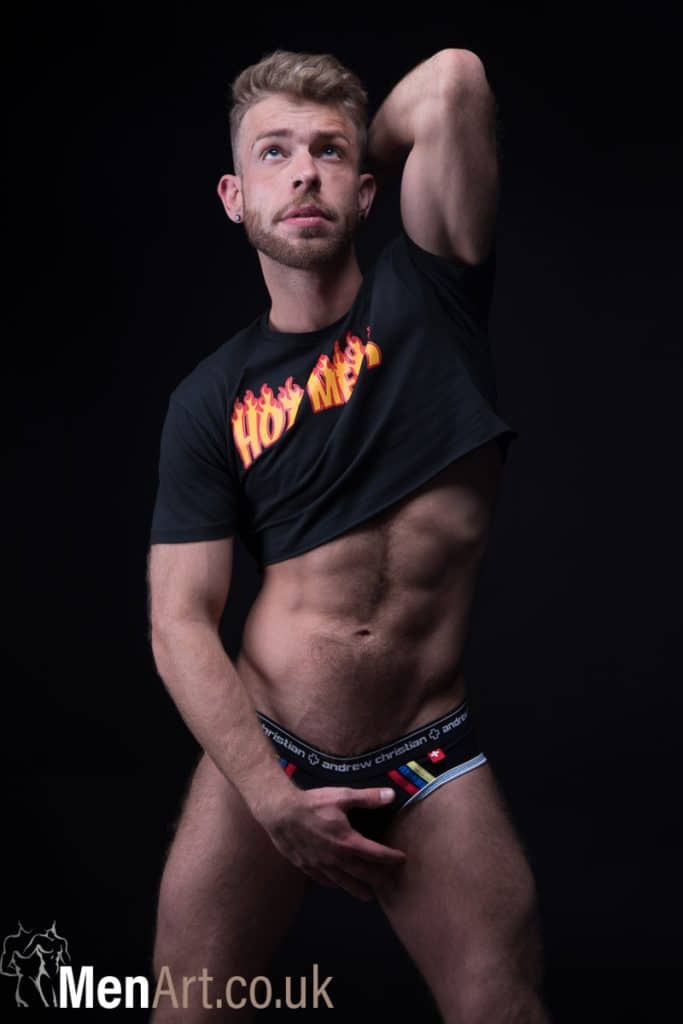 How do you feel that "Porn" is viewed now? Do you think that it is more acceptable or do you still think it is taboo?

I think that porn and all things sexual have become more than just accepted but empowering as previously stated. I think now porn actors are viewed with higher esteem and it has really moved away from the view that it is demeaning or derogatory! I for one love the new attitude with sex and being open about sex! Especially when it comes to non-binary or non-nuclear approaches to sex.
You Recently worked with Men at Play (One of our favourite scenes) in the Londoner – How was it working with them and the gorgeous Pietro?

MenAtPlay….two words…FUCKING AWESOME! They have a real comfortable yet rewarding approach to filming! You have the locations, the suits and the hot scene partners! I mean I filmed two scenes for them, one of which is yet to be released (a little exclusive info for you!) and they were both amazing! To me they are an esteemed company so i'm so thankful they wanted me for their rosta! 

And as for Pietro; what can I say, the chemistry was apparent! He is a gorgeous, fiery, sweet and powerfully sexual creature all wrapped up in a cute little package!! I'm a lucky boy!

For anyone who is thinking of going into Porn, what advise would you give to them?

I would advise steering well clear of doing porn! We don't need any more competition than there already is hahaha I jest, I would advise that you are certain, that you don't rush into it and that you go through the right chanels to apply! Always keep your independence and your smarts; never do anything that feels wrong to you or goes against you morality! Other than that, it's such a fun and diverse experience and if you are hot, then don't be afraid to hit me up haha 🤙🏻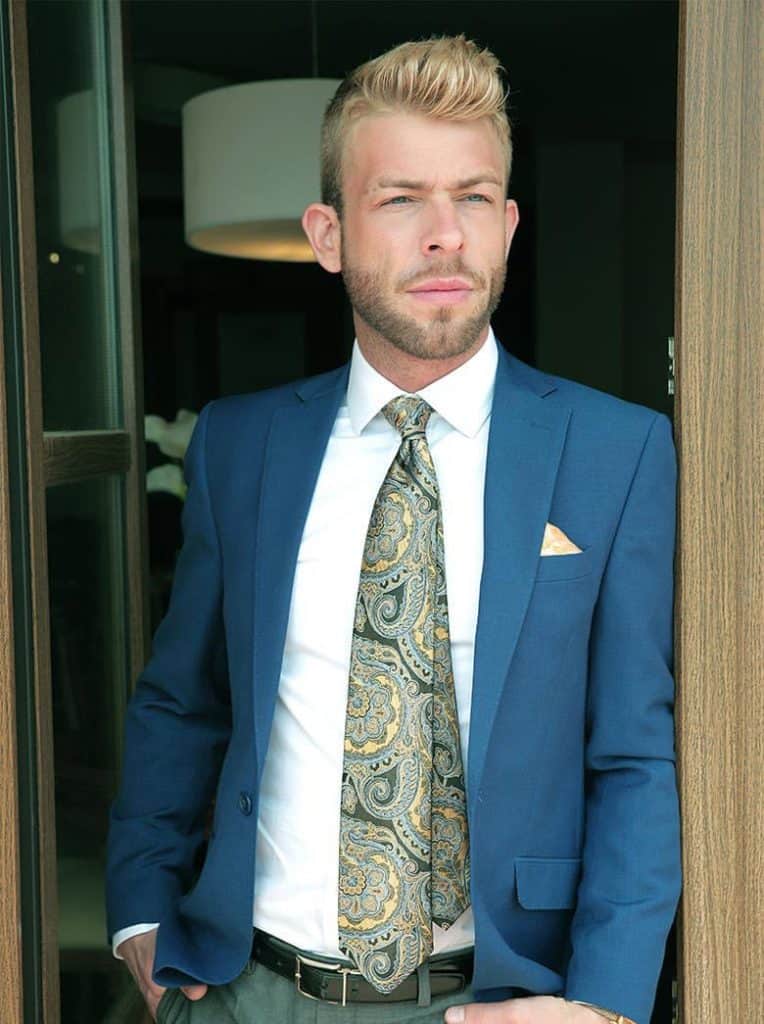 You have worked with Porn 4 Prep, what do you think is the most important message that they share? 

For me The most important message from porn4PrEP was about removing the inital negative stigma that we have around people who are HIV+ . The fact that they want to educate to remove the ignorance really means alot to me as I think most prejudice can be tackled with understanding and knowledge.

What are you guilty pleasures?

Haha My guilty pleasure? Hmm I have so many; i'm gonna say alcohol, Playstation and ass  though, I am only guilty because I admit to doing them, I am not guilty because I think they are bad for me 

Tell us something about you that you have never told anyone

Unfortunately, I am way to honest so it would always be information people have heard before……hmmm lemme see; okay, sometimes…..and don't laugh….but sometimes I still get "stage fright" at a urinal and I ask people to sing or simulate the sound of a hand-dryer to get the 'flow' going haha I can even remember times I've had an entire restroom of blokes songing along and hadn't known any of them! It's really strange because I am such an exhibitionist!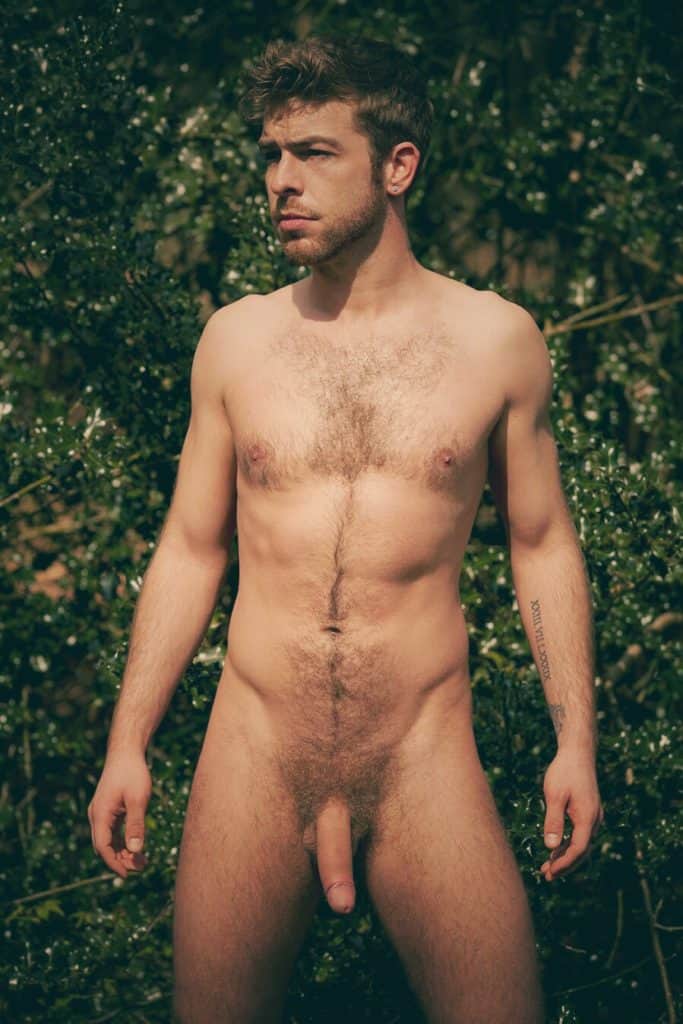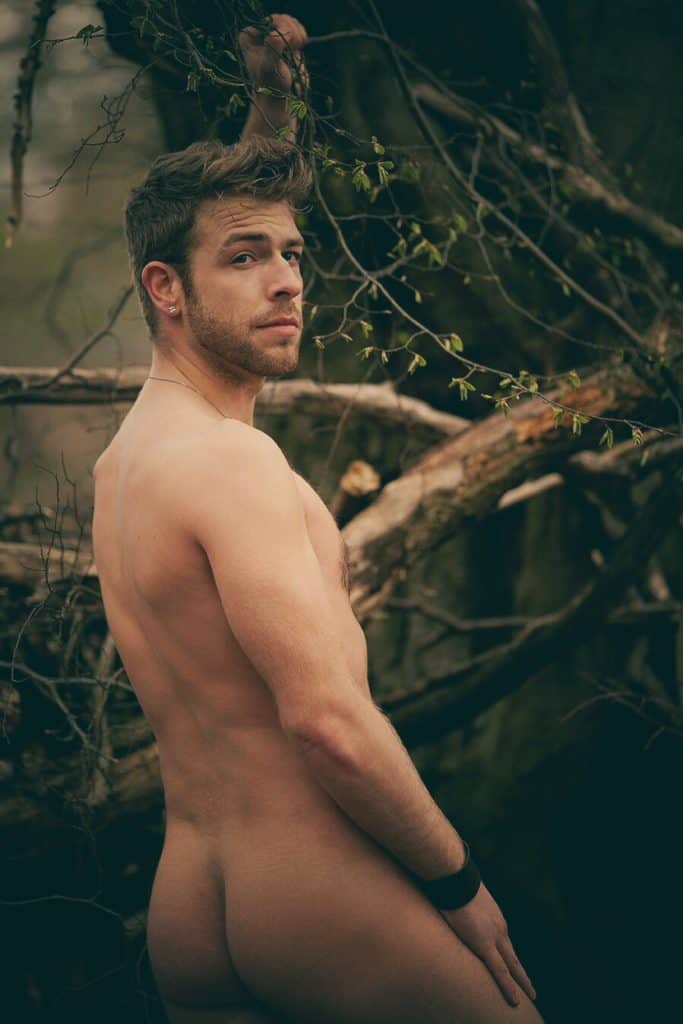 Would you ever direct a movie?

I'd love to direct! I always think it's really beneficial when a model makes the jump into directing as they can understand the requirements and strain from both points of view! It really allows you to relate to the actors! However, I would love to direct very artsy/moody scenes or, Hollywood movie parody's!

Where do you see yourself in 5 years time?

In 5 years time I see myself as 33…oh fuck; I don't wanna think about that lol
And with that his gives a cheeky smile and off he goes back into the world of Phoenix… You can be sure his success will continue and he will keep the world a sexier and happier place to be in. 
Photo Credits: 
@superchargedguys  
@Mwordsphotography 
@nigerorbach 
@menartbygraham 
@menatplay
@superchargedguys 
@superchargedguys