Brand new at SeanCody.com the home of jocks and bareback dicks Josh has landed to meet Lane. Lane and Josh hike through the wilderness shirtless as they prepare to get a good sweat on. "We're excited to be back," says Josh. "This guy's been on my list for a while." "Oh ya? What list is this?" responds Lane.
"You're definitely fuckable," says Josh, "so you've been on that booty list." "I've been eyeing you too," says Lane. "I've heard you can take it big," flirts Josh. "I can take it big, that's a fact." Says Lane.
Josh and Lane get butt banging at Sean Cody!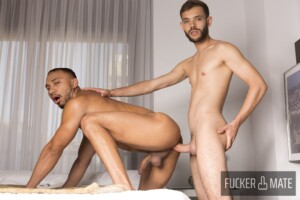 FuckerMate – Morning Lust with Tommy Dreams and Dani Brown Fuckermate's Columbian stud muffin Dani Brown has just woken up. Dani cannot stop thinking about his master fuck with Tommy Dreams. Lucky for us we are invited inside his head, and go back to the time when the duo hooked up. Tommy appears fully exposed
Read More »