MASQULIN.COM - Motel Slutsville with JJ Knight, Ken Summers, Lukas Daken & Rico Vega
The final episode of Masqulin.com's Motel SlutsVille has finally arrived. Big dicked stud JJ Knight gets an unannounced visit from the Motel attendant. He is again reminded how and why the town got it's name. The pair waste no time in getting down to some slutty action. The heat is turned up another notch when Ken Summers and Lukas Daken turn up. 
It is no long before the foursome, are having a bareback foursome. The bareback orgyfest is something that will be remembered for some time to cum….!!! Masqulin.com maybe a new website but they have hit the ground running.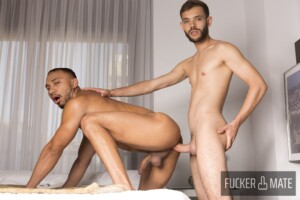 FuckerMate – Morning Lust with Tommy Dreams and Dani Brown Fuckermate's Columbian stud muffin Dani Brown has just woken up. Dani cannot stop thinking about his master fuck with Tommy Dreams. Lucky for us we are invited inside his head, and go back to the time when the duo hooked up. Tommy appears fully exposed
Read More »