Pitching a Tent with Thyle Knoxx & Mateo Zagal - Masqulin
Masqulin hits it out of the park, or should we say forest with their latest release. Thyle Knoxx and Mateo Zagal are back home from university in their humble home town. Bored and not really knowing what to do with themselves they decide on taking a camping trip. If nothing else, it will take them back to the good old days. 
Thyle has learned a few things with at university, and he wants to try them out with Mateo. They share a deep and longing friendship, but now its time for them to take it to the next level. Thyle has always wanted to suck on Mateo's dick and be used as his own personal fuck toy. 
One they have pitched their tents, Thyle decides that it is time to take action. Mateo is more than happy to have his cock sucked on by his friend. Cock sucking soon becomes ass licking and then bareback fucking. It was worth it all in the end! 
Pitching more than a Tent, with Thyle Knox and Mateo Zagal at Masqulin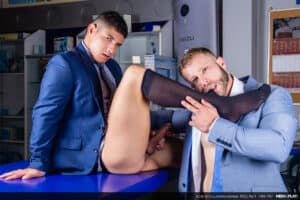 Men at Play – Will Not Take No with Bastian Karim & Diego Reyes So this week at Men at Play we are taken inside the security industry and all the perverse action that involves, Bastian Karim is tailored nicely in his navy blue suit and is the head of one of the best home
Read More »