MenatPlay- Barber Shop Sex
Jonathan Miranda is the barber, while Leo Rosso is the client!
New at Menatplay Barber Jonathan Miranda appears from the back of the barber shop where Leo Rosso has been waiting ages for his appointment. As Jonathan doesn't want to upset his client, he asks him to take a seat in the barbers chair. All that Leo really wants is a quick trim of his beard. The treatment starts with Jonathan applying a thick layer of shaving cream on his face.
Having the hunky handsome barber so close to Leo, he gets really turned on. He cannot resist and gradually pulls out his fat cock through his trouser's zipper and slowly plays with it. When Jonathan is finally is done, he can't resist the urge to taste, play with, and ride Leo's cock. 
MenatPlay open the barber shop for business, with Leo Rossi & Jonathan Miranda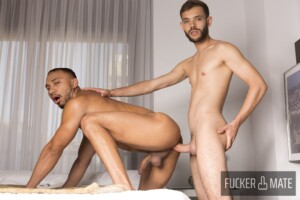 FuckerMate – Morning Lust with Tommy Dreams and Dani Brown Fuckermate's Columbian stud muffin Dani Brown has just woken up. Dani cannot stop thinking about his master fuck with Tommy Dreams. Lucky for us we are invited inside his head, and go back to the time when the duo hooked up. Tommy appears fully exposed
Read More »