Lucas Entertainment-Thomas Brand & Gustavo Cruz
Lucas Entertainment is giving you an extra treat this week. Tomas Brand, the King of All Muscle Daddies, is a god when he's posing and showing off his muscular physique in the buff and his uncut daddy dick is erect and ready for service. But Tomas Brand's imposing presence also cleans up well in a suit. And this time Tomas Brand, who has the commanding presence of a CEO when he's dressed in his white-collar attire, meets his match with Gustavo Cruz. Gustavo is traveling through Europe on business, and he stops off for a meeting with Tomas Brand. But when two men of this stature and strength are together, the red-hot energy burns their suits away and hey can't do anything but suck and fuck bareback!
Daddy Thomas Brand and Gustavo Cruz Flip it Up at Lucas
Tell us what you think of this movie - Comment Below.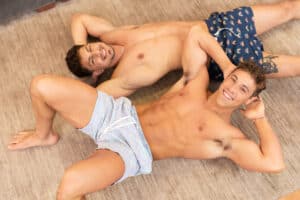 Sean Cody – Jeremiah & Kyle Bareback Kyle is taken shocked when he touches up again Jeremiah, his body is incredible. We think to ourselves well isn't this the Sean Cody standard? The stunning hot jocks have come to play and play hard. Kyle spots Jeremiah's huge thick cock and drops to his knees to
Read More »