Icon Male - Nick Fitt & Clark Davis - Caught in the Act
Clark Davis is having a poker night with the local dads at IconMale.com. As the cards are being dealt and the bets are being made, he spots someone at the window. After taking a second glance he can tell that is it Nick Fitt. Without any hesitation, he makes an excuse to the group, that he needs the bathroom.  Now we all know that he will not be going to pee, instead, he wants to see why Nick is lurking about. As he makes his way outside, he finds Nick fully clothed and questions his intentions. 
The interrogation luckily continues in a bedroom So instead of playing cards, it seems to us that these guys will be playing with one another. Guess what? We are right.  The guys move in for some deep kissing which ultimately leads to them both being rock hard. Clark lays back on the bed, and Nick pulls down his pants to reveal a rock hard cock. Nick places one hand on Clark's dick and starts to play with it, while the pair continue to tongue kiss one another. Nick is hungry for some cock and proceeds to devour Clark's thick and girthy member. After some serious sucking, Nick flips Clark up for a taste of his hole. He tongue fucks Clark's tight ring and basically devours it.
And now on with the fucking…
Clark is ultra turned on by the oral servicing that naughty Nick has just given him. Now he wants to return the favour by plunging his cock deep inside Nick's willing hole. Thrusting deeper and deeper, Nick moans in pure ecstasy. Not fully satisfied Nick wants a turn fucking ass, so Clark assumes the position. Nick likes to fuck hard and gives it full throttle to Clark, the harder the better. The pair flip-fuck their way through the rest of the scene. An explosion of cum is the perfect end, in what is turning out to be a royal flush of a scene! 

Nick Fitt and Clark Davis go hard at it, at Noir Male!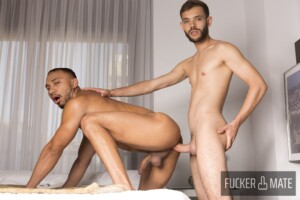 FuckerMate – Morning Lust with Tommy Dreams and Dani Brown Fuckermate's Columbian stud muffin Dani Brown has just woken up. Dani cannot stop thinking about his master fuck with Tommy Dreams. Lucky for us we are invited inside his head, and go back to the time when the duo hooked up. Tommy appears fully exposed
Read More »