Noir Male - Osiris Blade & Michael Roman - Work Out Warm Up
This week at NoirMale.com Studs Michael Roman and Osiris Blade have decided that they will hook up before they work out. Osiris is doing his stretches in his Lycra gym wear as Michael walks in. Mr Roman takes a seat on the couch to admire the view that lays in front of him. He makes a comment to his gym buddy that surely he isn't comfortable working out is such tight gear. Not one to miss an opprtunity Mr Blade grabs his admirer's hand and places it firmly on his massive bulge.
Turned on and wanting to ditch the gym for another kind of workout, Michael drops to his knees. Who needs a gym when you can burn calories and enjoy yourself at the same time. Michael cannot wait to unwrap the huge package that Osiris has in his pants. Enjoying the moment Michael caresses Osiris's erect cock and enjoys revealing the monster cock. Once he sees it, he wants it in every way he can. 
The pair enjoy each other's body's with plenty of oral action and dick slurping. Osiris munches on his gym buddies meaty ass, preparing it for a hard fucking. These guys certainly have chemistry and hopefully this will be the start of many "work out" sessions to come! 

Michael Roman couldn't wait to get his ass worked out by Osiris Blade's Thick Cock!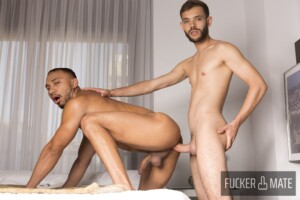 FuckerMate – Morning Lust with Tommy Dreams and Dani Brown Fuckermate's Columbian stud muffin Dani Brown has just woken up. Dani cannot stop thinking about his master fuck with Tommy Dreams. Lucky for us we are invited inside his head, and go back to the time when the duo hooked up. Tommy appears fully exposed
Read More »