Men.com Presents Running Butthole Challenge with Paris Pierce & Joey Mills
You have seen the Running Butthole challenge twitter sensation. Now you can see the Men.com movie. Let's get to it, When Pierce Paris shows Joey Mills the Running Butthole Challenge, Joey puts on a big show of being disinterested. However, when Pierce checks in on him later the sexy brown-haired twink is getting ready to make his own video for it!
Never one to miss a great opportunity, Paris sneaks into Joey's room with his video camera.  Paris positions himself underneath Joey's phone so that when Joey attempts the challenge he ends up with Pierce's rock hard cock up his ass. This is a great idea, for some real fun. Joey doesn't mind though, taking the opportunity to ride Pierce's massive dick. Not only does he get the full length of his cock, he gets it raw. Pierce gives Joey a powerful pounding, ramming his cock into Joey's tight twink hole relentlessly until Pierce is ready to blast his load all over Joey's gaping ass.
You can always rely on Men.com to bring you the best new porn with the hottest guys! This movie will launch on the 23rd August. 
Running Butthole Challenge Trailer Starring Paris Pierce and Joey Mills Now Playing
Paris Pierce & Joey Mills take on the Running Butthole Challenge at Men.com
What do you think? Let us know and get involved!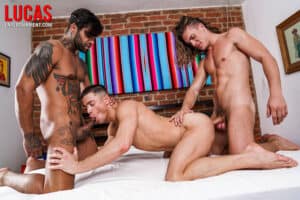 Spit Roasted Ruslan Angelo with Kosta Viking and Babylon Prince The men over at  Lucas Entertainment certainly enjoy brining you some of the dirtiest scenes. This week they bring you power bottom Ruslan Angelo and his 2 hung tops Kosta Viking and Babylon Prince. Taken from their movie "Bareback Auditions 18 : Action and Ass"
Read More »