Sean Cody - Jax Top 5 Scene Highlights!
With a brand new feature with Sean Cody's big dicked alpha top Jax, we thought we would revisit some of his best scenes to date. Jax first made his debut in 2018 in a blazing solo scene, once fans saw what he had to offer (which included a 6ft3 banging body, chiseled good looks and a massive dick) he was soon back for more. His first duo was with with cutie Angelo. His performance was to ensure that he would take his place as one of Sean Cody's legendary tops. When he wants to bang ass, that is exactly what he does and goes the extra mile. 
Number 5. Jax does Robbie.
March 2019 saw Jax take on Robbie. After a sun soaked day riding their bikes on the beach, they returned back to get it on. Robbie rubbed on Jax's dick and makde him rock hard. Jax buried his tongue into Robbie's eager hole. The pair fucked their way through the afternoon in a blazing 4 cum shot filth feast. 
Number 4 - Jax Does Brysen!
Jax and Brysen lit up the screen together. Everyone loves a bit of inked stud Brysen, including Jax. Brysen had a perfectly round booty and Jax could not get enough of it. Jax proclaimed that he was gonna ride Brysen harder than ever before. He did not break his promise
The pair only met the night before filming, and it was clear to see that they couldn't wait to get naked and dirty. Story is that that night they went back to the hotel room and fooled around. The next day was shoot day and they were ready for the full on round 2! The bed springs got a full on work out and we think they may have broken it. 
Number 2 - Jax Does Asher
Jax and Asher had the spend the whole day in their jock straps. As they got nice and sweaty it was time to retreat back to the appartment to work up another sweat. Give Asher a medal as he takes every inch of Jax's big dick, deep and hard. 
Number 1 - Jax Does Jackson!
This is one blazing hot hook up. Jackson is so excited to be getting the Jax treatment. Jax gets a instant boner as Jackson describes what he wants to be done to him. The pair up up in a cock sucking, ass licking, butt fucking extravaganza. This is one of Jax's best scenes and we have watched it so many times. 
Head over to SeanCody.com now where not only can you see the these scenes in full HD glory, there is a total of 25 featuring Jax!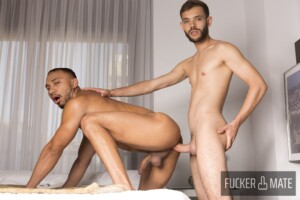 FuckerMate – Morning Lust with Tommy Dreams and Dani Brown Fuckermate's Columbian stud muffin Dani Brown has just woken up. Dani cannot stop thinking about his master fuck with Tommy Dreams. Lucky for us we are invited inside his head, and go back to the time when the duo hooked up. Tommy appears fully exposed
Read More »