Fuckermate Presents Hairy Affairs
Starring Sir Peter & Louis Ricaute
Hairy and Horny at  Fuckermate.com the fun is about to begin. Hairy muscled stud Louis Ricaute is back with us this week for a burning bareback encounter with one of our best tops around. Sir Peter has been waiting for him on the bedroom and as soon as the guys meet a hot chemistry bursts between them. Peter doesn't take long to tape Louis' mouth shut with his thick juicy cock and the Venezuelan does his part by sucking greedily every inch of that fabulous shaft.
Now Playing: Fuckermate Sir Peter & Louis Ricaute
After such blowjob session Peter gets horny like a horse in heat: first he returns the favor having a taste of his buddy's hole, then he sticks his raw hard bone deep inside that Latin muscled ass. With his belly full of cock, Louis does not stop begging to be fucked harder and Peter gives what he deserves, fucking him rough and leaving his arse stuffed with cum!
Sir Peter &, Louis Ricaute get into some hairy bear fun at Fuckermate!
Tell us what you think of this movie - Comment Below.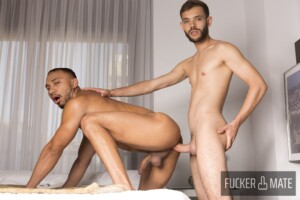 FuckerMate – Morning Lust with Tommy Dreams and Dani Brown Fuckermate's Columbian stud muffin Dani Brown has just woken up. Dani cannot stop thinking about his master fuck with Tommy Dreams. Lucky for us we are invited inside his head, and go back to the time when the duo hooked up. Tommy appears fully exposed
Read More »