Hot House - Raw Workloads with JJ Knight & Nic Sahara
JJ Knight and Nic Sahara have been hired to organize a client's garage. After finishing the job, the two jocks play around on some gym equipment. As Nic shows JJ how many pull-ups he can do, JJ pulls down Nic's pants and starts eating his smooth hole. All the licking makes Nic rock-hard and he turns around to let JJ suck his long, uncut cock. With Nic's used-up undies pressed to his nose and Nic's dick in his mouth, JJ can't get enough of the hung stud.
JJ needs his massive dick sucked too and pulls down his pants to reveal his mouth-watering monster cock. Nic can't resist the sight and gets on his knees to service JJ's pole to the base. After sucking JJ, Nic is ready for his friend in his ass and bends over to take it all. JJ slides his raw swollen dick all the way inside Nic, making the stud moan with each bareback thrust from behind. Both studs enjoy the fuck session and switch up their positions a few times until they settle on Nic getting banged on his back. JJ picks up the pace and brings the bare fucking to a frantic climax.
Nic needs to cum soon and as JJ pumps his stretched-out hole, he blasts his giant load all over his ripped abs.JJ loves seeing the pleasure he's caused and pulls out to bust his nut all over Nic's spent cock and balls and then fucks the cream into Nic's throbbing ass.

Nic Sahara & JJ Knight are Really Enjoying their Time Together at Hot House!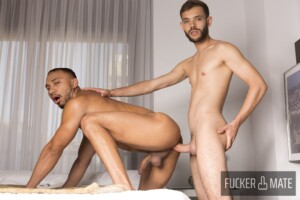 FuckerMate – Morning Lust with Tommy Dreams and Dani Brown Fuckermate's Columbian stud muffin Dani Brown has just woken up. Dani cannot stop thinking about his master fuck with Tommy Dreams. Lucky for us we are invited inside his head, and go back to the time when the duo hooked up. Tommy appears fully exposed
Read More »