Tomas Brand and Andrea Surez - Lucas Entertainment
Daddy Tomas Brand meets his ultimate lad crush, aka Andrea Suarez in this latest scene. Taken from the highly popular series at Lucas Entertainment "Battered Boy Holes". Tomas has become one of the more desired daddies of gay porn and Andre has already been the boy with the bubbly butt and dashing good looks. 
when the duo comes face to face with one another the desire in their eyes and crotch areas is apparent They cannot wait to rip one another's clothes off and get down to business, dirty business. 
Andrea serves his daddy with his mouth around his thick and girthy cock and Thomas returns the favour by slamming his ass hard and deep. But daddy gets a good arse fucking too! This one you can't miss out on! 
Daddy Tomas Brand and cute cubble Butt Andrea Suarez Flip Fuck
Tell us what you think of this movie - Comment Below.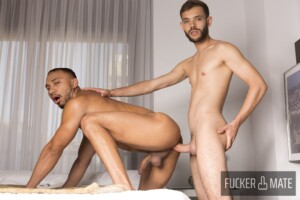 FuckerMate – Morning Lust with Tommy Dreams and Dani Brown Fuckermate's Columbian stud muffin Dani Brown has just woken up. Dani cannot stop thinking about his master fuck with Tommy Dreams. Lucky for us we are invited inside his head, and go back to the time when the duo hooked up. Tommy appears fully exposed
Read More »