Daddy Tomas Brand Gets fucked by Jesse Santana & Jeffrey Lloyd
One of the ultimate Daddies of Porn Tomas Brand is back at Lucas Entertainment. Who better to let him play with than the sexy Jesse Santana and hottie Jeffrey Lloyd. The rule of the game is that whatever daddy wants, daddy gets. These rules are strictly in play in this hot scene. Tomas takes his time enjoying the taste of both Jesse and Jeffrey's cocks. 
Things carry on inside with some rimming and sucking, no one gets left out. Daddy Brand wants to fuck a tight hole and so decides to take Jesse raw and hard. Jesse's mouth is full of Jeffreys cock and he cannot get enough. After a work out of some hard and deep pounding, Tomas decides he wants his own hole used. 
Both Jeffrey and Jesse take it in turns to fuck daddy hard and deep. Tomas cannot get enough raw cock up his ass. The cum finally shoots everywhere, and everyone gets covered!
Hungry bottom Anteo takes big dicked Gianni Maggio
Tell us what you think of this movie - Comment Below.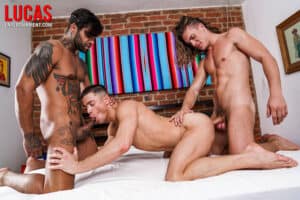 Spit Roasted Ruslan Angelo with Kosta Viking and Babylon Prince The men over at  Lucas Entertainment certainly enjoy brining you some of the dirtiest scenes. This week they bring you power bottom Ruslan Angelo and his 2 hung tops Kosta Viking and Babylon Prince. Taken from their movie "Bareback Auditions 18 : Action and Ass"
Read More »