French Twinks - US Road Dick Episode 2 - French & American Orgy!
The sexual adventure of FrenchTwinks.com's "US Road Dick" continues in their next instalment. The gorgeous Paul Delay, Chris Loan, Doryann Marguet and Enzo Lemercier arrive in ultimate city of sin, Las Vegas. After an amazing night out on the town taking in all the the strip has to offer, they return to their suite. You would think that they would all be tired after some sight seeing, however you would be wrong. American hunks Chris Summers, Justin Stone and Alex Kilborn have all been invited for a drink, and this is when the night really begins.
After a few glasses of champagne, naughty thoughts creep into everyone's minds. The group are all horny and decide to make their way into the bedroom for an orgy. The sexual energy is on fire as everyone strips down for a Vegas style fuck feast. No Cock goes un-sucked, no ass goes uneaten and no hole goes unfilled! They make not speak one another's language, but that doesn't matter when it comes this sex marathon. 
It is often said that "What Happens in Vegas, Stays in Vegas"…. all we can say is thank god this rule was shattered and FrenchTwinks.com captured it all for us to enjoy! 

The French Twinks Enjoy Their Vegas Orgy!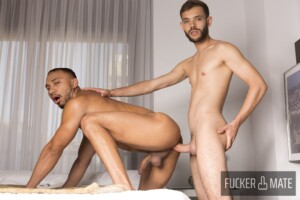 FuckerMate – Morning Lust with Tommy Dreams and Dani Brown Fuckermate's Columbian stud muffin Dani Brown has just woken up. Dani cannot stop thinking about his master fuck with Tommy Dreams. Lucky for us we are invited inside his head, and go back to the time when the duo hooked up. Tommy appears fully exposed
Read More »