Starring Cade Maddox and Eric Rey
Don't miss your appointment at Hot House. Cade Maddox is bored waiting for his doctor's appointment and decides to go rogue. He explores the place and finds Eric Rey in one of the examination rooms. Eric thinks that Cade is his doctor and so the fun begins. Cade grabs a white doctor's coat and starts to physically exam his "patient".
It's not long before Cade is wanting his legendary cock sucked, Eric is happy to oblige. After some serious mouth work, Cade has worked up an appetite for some ass. He tongues Eric's tight hole deep and laps it up. Nothing else left to do but seriously anal bareback fucking. Eric rides Cade's cock as a true bottom should.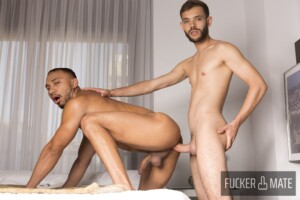 FuckerMate – Morning Lust with Tommy Dreams and Dani Brown Fuckermate's Columbian stud muffin Dani Brown has just woken up. Dani cannot stop thinking about his master fuck with Tommy Dreams. Lucky for us we are invited inside his head, and go back to the time when the duo hooked up. Tommy appears fully exposed
Read More »