Men at Play - Jean Franko & Malek Tobias
Spanish stallion Jean Franko has had a few too many drinks at the MenatPlay bar. He obviously has had a bad day and is spending his time on the slot machine, hoping for a change in luck. Suited Bar man Malek Tobias is concerned about his patron and explains that Jean should give it up for the day and go home. Jean is having none of it and continues throwing his cash at his hopes of a jackpot. Malek is getting tired of asking Jean to vacate the building and threatens to call the police. At this point, everything changes.
Jean grabs Malek and trusts his towards the bar, no one will tell him what to do and now he is in charge. After some tussling all this has turned on Franko and he forces Malek on his knees as his wants his dick sucked. Malek with little resistance happily obliges and readies his mouth open and sucks on the stallion's thick meat. After some oral servicing, Jean wants to lick ass. He tears a massive hole in Malek's pants and buries his tongue deep inside of his eager hole. The pair continue to have the hard fuck of their lives, with no disruptions as the bar is closed..
All we can say that Jean Franko may not have won the cash jackpot, but certainly won the bonus round of Malek's ass. Check out the trailer, 2 minute preview and gallery below and join Menatplay.com to see the whole thing!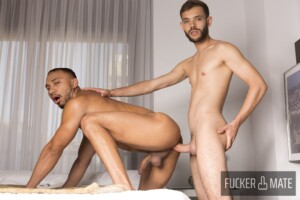 FuckerMate – Morning Lust with Tommy Dreams and Dani Brown Fuckermate's Columbian stud muffin Dani Brown has just woken up. Dani cannot stop thinking about his master fuck with Tommy Dreams. Lucky for us we are invited inside his head, and go back to the time when the duo hooked up. Tommy appears fully exposed
Read More »