Lucas Entertainment - Dylan James & Rafael Carreras
Lucas Entertainment and those business men are ready to play. Rafael Carreras is back to fuck some more, but this time he wants someone alpha, unlike the beta bottom Aaden Stark that he thoroughly slammed recently. Rafael Carreras hooks up with the tattooed business jock Dylan James.
While Rafael often is on top slamming asses, he's quickly seduced by Dylan's quiet charm and masculine energy. Rafael gets on his back and spreads his ass open for Dylan to fuck. At one point, Rafael Carrera rides Dylan James and really moves his hips, and with the motion, all nine inches of Dylan's bare cock disappear up his ass!
Business Meeting Gone Wild with Dylan James & Rafael Carreras
Tell us what you think of this movie - Comment Below.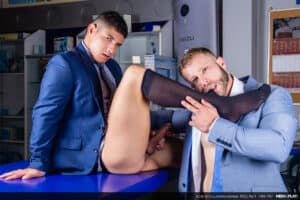 Men at Play – Will Not Take No with Bastian Karim & Diego Reyes So this week at Men at Play we are taken inside the security industry and all the perverse action that involves, Bastian Karim is tailored nicely in his navy blue suit and is the head of one of the best home
Read More »