FreshMen Presents Robin Rief and Serge Cavalli
We love it when the guys, over at freshmen.net get the hottest models and place them naked in front of a camera together. This week we get the catwalk-like model Robin Rief paired up with the equally stunning Mr. Serge Cavalli. 
Robin only speaks in his native Hungarian, and Serge is not the most talkative of guys. This can only result in one thing to do, suck, rim and fuck. We are not complaining the pair's tight bodies thrust against each other, instantly giving us a boner. After some nice oral action the deep hard fucking rsults in cum shots that can been seen from miles away. We are just about to take a swim in it, so make sure you check it out for yourselves! 
Goregous Hungarian Robin Rief loves riding Serge Cavalli's Cock at Freshmen!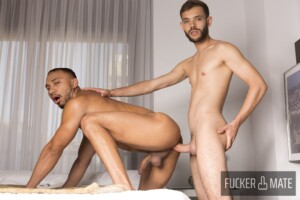 FuckerMate – Morning Lust with Tommy Dreams and Dani Brown Fuckermate's Columbian stud muffin Dani Brown has just woken up. Dani cannot stop thinking about his master fuck with Tommy Dreams. Lucky for us we are invited inside his head, and go back to the time when the duo hooked up. Tommy appears fully exposed
Read More »