Dirty Blonde and Hunky Muscle Brunette Fuck
Robbie Dane and Jason Smith get Dirty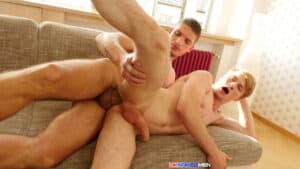 When a hot dirty blonde and a dark and sexy Latino get together sparks and jizz will fly. UK Naked Men first-timers are Robbie Dane, the very willing and very able bottom and Jason Smith our super-thick-dicked top, boy-oh-boy plucky young Robbie is gonna have to push back hard to squeeze that juicy joint into his fuck-chute, will he manage!?
The boys strip off on the sofa and waste no time getting their hot hands and hotter mouths around each other's uncut dicks, there's a whole lotta slurping going on. Two big, uncut cocks and two hungry lads, no condoms, of course, we know you like it bareback, don't we all.? Sexy Robbie is offering up that prize rump and he gets it fully serviced by our gorgeous, exhibitionist top. ( such hot pink nipples you have their Robbie, ripe for a tongue flicking).
Its the last of summer coming through the window, our lads are feeling mellow and fruitful. Maybe 2020 hasn't been that bad after all!