Abel Sanztin & David Chacon Go in for an Ass Attack
Fuckermate - Ass Attack with Abel Sanztin & David Chacon
This week Fuckermate.com bring you some real dirt fucking with two of their youngest stars. Abel Sanztin and David Chacon waste no time in enjoying one another's bodies. Early mornings always bring out the biggest horns for these pair. As they lay naked next to each other their only thoughts is to enjoy the sexual pleasures of the circumstances

The duo unable to resist the craving for a morning session of hard bareback sex. Fuckermate's Latin twink David Chacon gets a taste of the monster cock of Spanish hung top Abel Sanztin and takes every inch of the raw meat like only a real bottom deserves!

Fuckermate.com have done it again, delivering one of the hottest scenes of 2020.
Now Playing: Fuckermate David Chacon & Abel Sanztin
Both up for a right pounding at Fuckermate Abel Sanztin & David Chacon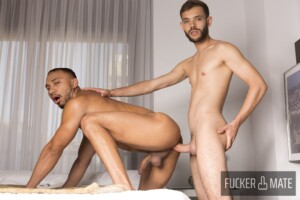 FuckerMate – Morning Lust with Tommy Dreams and Dani Brown Fuckermate's Columbian stud muffin Dani Brown has just woken up. Dani cannot stop thinking about his master fuck with Tommy Dreams. Lucky for us we are invited inside his head, and go back to the time when the duo hooked up. Tommy appears fully exposed
Read More »