Pierce Paris & Paul Canon
Tall hunk Pierce Paris is taking a massage therapy class with adorable, slender Paul Canon. He's taken aback by the realistic fake ass, and can't help but wonder what it would actually feel like, so he waits for Paul to leave the room, and penetrates the ass with his massive, hung cock.
Paul catches him in the act, but instead of freaking out, he decides to swap his ass with the fake one. Pierce fucks him good until he realizes what's actually happening, but it feels so good that he continues until they both cum.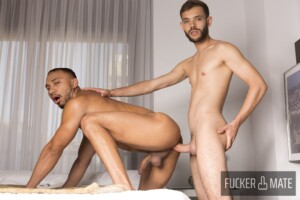 FuckerMate – Morning Lust with Tommy Dreams and Dani Brown Fuckermate's Columbian stud muffin Dani Brown has just woken up. Dani cannot stop thinking about his master fuck with Tommy Dreams. Lucky for us we are invited inside his head, and go back to the time when the duo hooked up. Tommy appears fully exposed
Read More »