Bo Sinn & Alex Montenegro
Only at  Bromo.com. Alpha Inked Bo Sinn finds his roommate, Alex Montenegro, has made a huge mess in the kitchen, and when Alex refuses to clean it up, Bo makes an even bigger one. He pushes Alex to the floor and uses his mouth as a cereal bowl. When Alex is on his hands and knees mopping up the spilled cereal and milk, This is just the start!
Bo rips open Alex's briefs, slides a funnel into his ass, and fills it with hot piss. After Alex releases it onto the floor, Bo spanks him, then feeds him the breakfast of champions: his dick. The bottom rides Bo on the floor, and the tattooed hunk pounds his roommate in doggystyle, bending him over the counter. Bo puts Alex on his back to give that messy hole some deep fucking till Alex cums, then makes another mess in Alex's mouth. Looks like this bottom has a lot of cleaning up to do!
Bo Sinn teaches flat mate Alex Montenegro a lesson!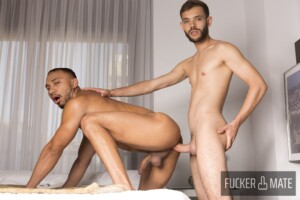 FuckerMate – Morning Lust with Tommy Dreams and Dani Brown Fuckermate's Columbian stud muffin Dani Brown has just woken up. Dani cannot stop thinking about his master fuck with Tommy Dreams. Lucky for us we are invited inside his head, and go back to the time when the duo hooked up. Tommy appears fully exposed
Read More »