Drew Dixon Gets a Hard Pumping at FuckerMate by Salvador Mendoza
Fuckermate always bring you the newest and the hottest guys, fact. This week they bring you big dicked Salvador Mendoza. Who better to take him for his first test run then sexy British guy Drew Dixon. Drew is known for his hot body and his ability to worship dick. The pair are an excellent match as Drew feasts on Salvador's massive monster dick. Please give this guy an award as he manages to deep throat the whole thing. 
As duo make it on the bed, Salvador feeds Drew some more cock and the Brit swallows it all. After some face fucking, Salvador wants to taste Drew's sweet legendary hole. He eats that sweet tasting hole like he has never been fed before. Then comes the fucking. Now if you guys like some deep and hard fucking this will certainly get you off. 
Drew likes to be plowed deep, Salvador doesn't disappoint as he fucks his bottom in every position. They both end up shooting their loads everywhere. So Bravo to Drew for taking it all, bravo to Salvador for his debut and Bravo Fuckermate.com for this awesome pairing! 
Now Playing: Fuckermate Drew Dixon & Salvador Mendoza
British Drew Dixon gets plowed deep and hard by Salvador Mendoza
Tell us what you think of this movie - Comment Below.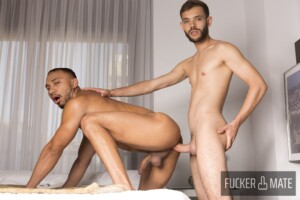 FuckerMate – Morning Lust with Tommy Dreams and Dani Brown Fuckermate's Columbian stud muffin Dani Brown has just woken up. Dani cannot stop thinking about his master fuck with Tommy Dreams. Lucky for us we are invited inside his head, and go back to the time when the duo hooked up. Tommy appears fully exposed
Read More »