Bentley Race - British Jack Durham
The guys at BentleyRace.com are always on the look out for the hottest guys. This week they bring you something extra special, his name is Jack Durham and he couldn't wait to get things going! 
Notes from Bentley Race:
I met this handsome British guy a couple of weeks ago during his summer visit to Melbourne. 26 year old Jack Durham is a big boy. When I saw those big legs I knew right away that he would look great in football shorts. I love talking to Jack and hearing his British accent as I direct him through his first photoshoot in the studio. Never having done any nude modelling before, Jack is a bit awkward at first. But by the time he gets naked and horny, he becomes more relaxed. I made a nice video of Jack wanking and fleshlight fucking before I suck his nice uncut cock until he cums. I am looking forward to teaming Jack up with some of our mates.
Jack Durham wasted no time getting his kit off!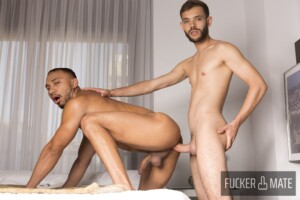 FuckerMate – Morning Lust with Tommy Dreams and Dani Brown Fuckermate's Columbian stud muffin Dani Brown has just woken up. Dani cannot stop thinking about his master fuck with Tommy Dreams. Lucky for us we are invited inside his head, and go back to the time when the duo hooked up. Tommy appears fully exposed
Read More »