Bromo - Urinal Fuck with Bo Sinn & Tony Carusso
Coming the 21st August at Bromo.com. Alpha Male Bo Sinn is busy at work cleaning the bathrooms at Bromo.com. Tony Carusso visits the bathroom to take a leak. Tony is so distracted by the hunky work man he ends up missing the urinal and pissing all over the clean floors. obviously Bo is pissed off by this and decides that he will teach this messy fucker a lesson. 
Pulling out his massive meat from his overalls, Bo presents it to Tony and force feeds him it all. Tony is taken back by this but does as he is told. Mr Carusso goes to town on tBo's massive thick and juicy cock and takes it all in his willing mouth. Next up, Bo wants to fuck some tight ass, his new fuck toy is more than happy to be fucked by his huge tool. Bo gives him the fucking of a lifetime and does it all without taking off his work wear. 
Bo Sinn used Tomy Carusso as his personal fuck toy!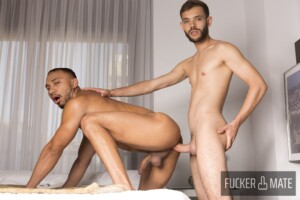 FuckerMate – Morning Lust with Tommy Dreams and Dani Brown Fuckermate's Columbian stud muffin Dani Brown has just woken up. Dani cannot stop thinking about his master fuck with Tommy Dreams. Lucky for us we are invited inside his head, and go back to the time when the duo hooked up. Tommy appears fully exposed
Read More »