Bromo - Raw Tow Service with Bo Sinn & Trent King
The latest scene from Bromo.com's "Raw Tow Service" has just landed and the heat is being cranked up to another level. Sexy Trent King is in desperate need of a mechanic, and so decides to pay a visit to Bo Sinn's garage. Trent makes his way to find Bo fast asleep, but he cannot resist this opportunity to have a little fun. 
As Bo is deep in slumber, Trent decides that he will get his dick out and wave his hard cock around. When Trent's hard inches are inches away from Bo's face, he suddenly wakes up. No it it time for Bo Sinn to seek his revenge, in a sexual fuck fest that will leave you wanting to watch over and over again! 
Trent King gets a good sample of Bo Sinn's legendary big dick!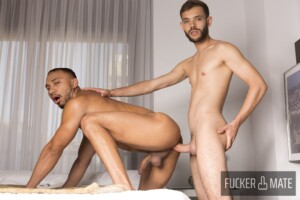 FuckerMate – Morning Lust with Tommy Dreams and Dani Brown Fuckermate's Columbian stud muffin Dani Brown has just woken up. Dani cannot stop thinking about his master fuck with Tommy Dreams. Lucky for us we are invited inside his head, and go back to the time when the duo hooked up. Tommy appears fully exposed
Read More »