Sean Cody - Brysen & Phoenix
Making his Sean Cody debut, hot mustached Phoenix will be bottoming. Phoenix tells Brysen he's looking forward to "Just something very sensual, slow…" Brysen laughingly replied, "Have you watched my films?"
Knowing this Brysen seems to enjoy the change of pace as he and Phoenix kiss each other's necks and chests, and Phoenix sensually sucks his cock, so he strips the bottom's shorts off and slowly fingers his hole.
Phoenix shows the top just how much fun slow and sensual can be as he rides him. There is some dick deep doggystyle till the bottom cums, Brysen takes his turn to demonstrate that a hard fuck can be just as enjoyable, then shoots his load on Phoenix's stretched hole.
Phoenix Bottoms for Big Dicked Brysen at Sean Cody!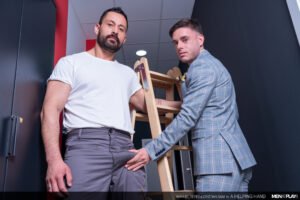 Men at Play Presents a Helping Hand Starring Manuel Reyes and Cristian Sam Manuel Reyes reluctantly stayed late to let in the technician who was coming to repair the projector before a board meeting the next day. He was taken aback when he saw Cristian Sam, dressed in grey worker pants and a white t-shirt,
Read More »