Men at Play's - Student Affair
Starring Sir Peter and Bastian Karim
Sexy hung Sir Peter has recently discovered that one of his students, Bastian Karim has had a sexual encounter with the school director. Usually, Sir Peter would not have an issue with however he finds the innocent-looking student irresistible. 
Sir Peter wants a taste of Bastian all to himself and so after class, he asks to have a word with him. After a small one-on-one talk about his current progress in class, things get heated. Sir Peter whacks out his thick and juicy 9-inch dick and offers Bastian to enjoy it all to himself. 
Bastian devours this huge piece of meat and it's not before his ass is plugged full of cock. It leaves us think that that Bastian will be passing his exams this year all thats to MenatPlay.com 
Teacher Sir Peter gives Student Bastian Karim a Sex Education Lession!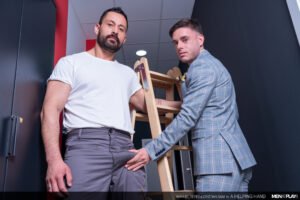 Men at Play Presents a Helping Hand Starring Manuel Reyes and Cristian Sam Manuel Reyes reluctantly stayed late to let in the technician who was coming to repair the projector before a board meeting the next day. He was taken aback when he saw Cristian Sam, dressed in grey worker pants and a white t-shirt,
Read More »