French Twinks - Dick Tock with Bastien Leray & Raphaël Andrioli
French Twinks always are ahead of the trends when it comes to social media. This week in a nod to Bastien LeRay's obsession with TIK TOK, they have created a parody version called "Dick Tok". Thrilled with his new app, Bastien LeRay shares his sexy dance movies with the adorable Raphaël Andrioli. These dances are completely uncensored and the pair enjoy a naked dance off. 
The heat in cranked up, as the pair meet up to put all of their sexual energy to work. Bastien Leray and Raphaël Andrioli get down to serious bareback fuck action for you all to enjoy. Our question is…. Where can we get the "Dick Tok" App?
Trying out "Dick Tock" Raphaël Andrioli & Bastien Leray play at French Twinks!
What do you think? Let us know and get involved!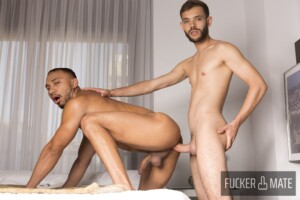 FuckerMate – Morning Lust with Tommy Dreams and Dani Brown Fuckermate's Columbian stud muffin Dani Brown has just woken up. Dani cannot stop thinking about his master fuck with Tommy Dreams. Lucky for us we are invited inside his head, and go back to the time when the duo hooked up. Tommy appears fully exposed
Read More »