French Twinks - Naked Gay Traction a "Naked Attraction" Parody with Sasha Delange
Readers from the UK would have no doubt of seen Naked Attraction. French Twinks have put their sexy spin on things and present "Naked Gay Traction". This sexy game show is presented by a hairy-chested drag queen with bright purple hair. Today's contestant is angel-faced Sasha Delage. The host of the show explains the rules of the game. There are four colored boxes with four naked twinks behind them. There are three stages to the game, each stage will reveal a different body part of the nude contestants. Sasha will get a close inspection of the naked flesh. After every reveal one twink is eliminated from the show. The lucky winner gets a very special date, one that could never be broadcast on tv.
The rules are set and now the show can commence. Sasha stands in front of the boxes, excited to see what is about to appear. The barriers lift up revealing four sets of dicks. Sasha makes his way up closer so he can have a proper look. All the cocks look good, so this is a really hard decision to get rid of one. After some deliberations, Sasha reluctantly gets rid of one on the guys. In his head, he would be perfectly happy to have all four cocks at once, but this is not how it works. The game continues and the remaining guys are banished, leaving just one. 
Then comes to twist.
So far Sasha has had all the fun getting an eyeful of completely naked lads. The tables are now turned, and he must take off all his clothes so his date can see the goods. Sasha slowly undresses revealing a firm body, delicious dong, and pert bubble butt. We won't tell you who Sasha picks, as that would ruin the surprise when you watch the full scene. What we can tell you is that the special date he has been playing for, is actually his scene partner for his first ever fuck scene. Now, this is a game show we want to take part in, where do we apply?
Which French Twink will Sacha Delage pick for his first fuck scene?
What do you think? Let us know and get involved!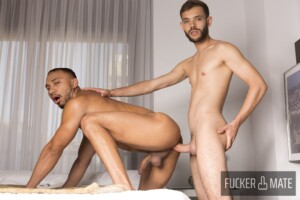 FuckerMate – Morning Lust with Tommy Dreams and Dani Brown Fuckermate's Columbian stud muffin Dani Brown has just woken up. Dani cannot stop thinking about his master fuck with Tommy Dreams. Lucky for us we are invited inside his head, and go back to the time when the duo hooked up. Tommy appears fully exposed
Read More »