Fuckermate - Summerend Fuck with David Montenegro & Danny Azcona
The pairings are always hot at Fuckermate.com this one is no exception. Sexy, toned and big dicked David Montenegro gets to plow the tight hole of gorgeous Danny Azcona. Before the fucking begins Danny gets to grip with the monster meat of David. His eyes seem to come alight as he see it in it's full excited glory. He holds it in his hands, and then devours it with a long hard sucking session. 
As the blow job has come to an an end, David decides that he wants to taste the hole that he is about to fuck. He bends over his power bottomed partner, taking please in licking him out. Danny is turned on as he moans and squirms as his hole is being eaten. Now his ass is nice and wet the hard fucking can begin. The look on Danny's face as he takes every inch of David's dick is worth watch al by itself. You just know this is the kind of cock that he really loves. 
The duo have an intense and powerful fuck session. The result? Well they covered themselves in cum and will have you doing the same. Bravo Fuckermate.com you have done it again. 
Now Playing: Fuckermate Gianni Maggio & Anteo Chara
David Montenegro & Danny Azcona have a heated end of summer fuck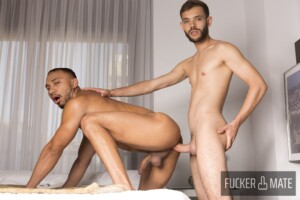 FuckerMate – Morning Lust with Tommy Dreams and Dani Brown Fuckermate's Columbian stud muffin Dani Brown has just woken up. Dani cannot stop thinking about his master fuck with Tommy Dreams. Lucky for us we are invited inside his head, and go back to the time when the duo hooked up. Tommy appears fully exposed
Read More »