Fuckermate - Big Dicks and Creampies - with Gianni Maggio & Anteo Chara
The guys at Fuckermate.com bring you their latest hot release. They bring together dominant big dick dominant top Gianni Maggio, and eager cute bottom Anteo Chara. When Anteo finds out that he is gonna be fucked by big dicked Gianni, he is more than excited. Anteo begins caressing the hard rod before taking care of it with his soft lips and his hungry tongue in a long sucking session. 
Gianni is impressed with his bottom's sucking abilities, and decides to return the favour. The big man, parts Anteo's ass cheeks and plunges his tongue deep inside. Anteo cannot get enough of his butt being eaten by a master. The time has come, to be fucked, hard and rough. The supersized Italian buries his boner bareback and fucks his buddy in every possible position. The scene ends with a cumfilled creampie, that anyone would be proud of. 
Now Playing: Fuckermate Gianni Maggio & Anteo Chara
Hungry bottom Anteo takes big dicked Gianni Maggio
Tell us what you think of this movie - Comment Below.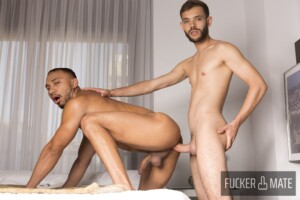 FuckerMate – Morning Lust with Tommy Dreams and Dani Brown Fuckermate's Columbian stud muffin Dani Brown has just woken up. Dani cannot stop thinking about his master fuck with Tommy Dreams. Lucky for us we are invited inside his head, and go back to the time when the duo hooked up. Tommy appears fully exposed
Read More »