Bentley Race - Horny Jocks Brock & Andy's First Shoot Together
When Bentley Race  is choosing the hottest guys to pair up for their website, they never in delivering the goods. This week they got the stunning Brock Matthews and Andy Summers together. The results were something that just blew us away!
Notes from Bentley Race:
Over this summer I am matching up our new mates with the guys who have been shooting regularly with me. It turns out that Brock Matthews and Andy Samuel had already hooked up on date a few weeks ago. It was funny that they had already met when I suggested they do a shoot together. Both boys are a lot of fun to shoot with and I knew they would make a hot video together.
You might even see the cameraman (me) getting in on the action as Brock fucks his new mate. It's one of the more passionate and horny shoots I have done this summer. And I'm happy to report that both Brock and Andy are already getting prepared for their next shoots with our mates. I will definitely be keeping these horny boys busy for the remainder of this shooting season.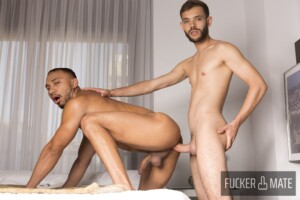 FuckerMate – Morning Lust with Tommy Dreams and Dani Brown Fuckermate's Columbian stud muffin Dani Brown has just woken up. Dani cannot stop thinking about his master fuck with Tommy Dreams. Lucky for us we are invited inside his head, and go back to the time when the duo hooked up. Tommy appears fully exposed
Read More »