Kosta Viking & Pol Prince - Lucas Entertainment
When a Kosta Viking arrives at Lucas Entertainment, they say it's always best to start with the famous bareback audition. On his previous visits he debuted with his real life partner Rudy they took turns do dirty things to Allen King (who we just call the prince of porn).
While on Set Kosta instantly had an attraction to long haired adonis Pol Prince. He certainly wanted that italian sausage. Whatever Kosta wants he always seems to get it!
As you can see the duo were cast together and then the real fun happened. Pol had secretly fantasized about getting hold of Kosta's flowing blond hair while he was dick deep inside of him. 
After an intense fuck fest Pol who doesn't usually bottom decided that he wanted Kosta's long cock inside of him. This all equates to one of the horniest scenes ever! 
Pol Prince and Kosta Viking flip fuck at Lucas Entertainment
Tell us what you think of this movie - Comment Below.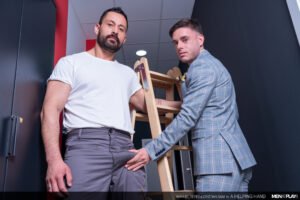 Men at Play Presents a Helping Hand Starring Manuel Reyes and Cristian Sam Manuel Reyes reluctantly stayed late to let in the technician who was coming to repair the projector before a board meeting the next day. He was taken aback when he saw Cristian Sam, dressed in grey worker pants and a white t-shirt,
Read More »