NoirMale - The Ring - Rocco Steele &. Liam Cyber
This week at NoirMale.com Daddy Rocco Steele has finally realised that he has made too many mistakes. He wants to make things good with his lover the adorable Liam Cyber. Rocco confesses his love for Liam and produces a ring, with the intention of putting things right. Liam is happy to accept Rocco's appology and you just know that make up sex is always the best!
As a way of showing his admiration for Rocco, Liam is happy to give him a blowjob to keep daddy happy. How he manages to fit it all in his mouth is quite something. Daddy is now hungry for ass, so he bends over his lover and licking his tight and eager hole. Holding his legs in the air Liam wants that tongue all the way in his butt, Rocco is happy to munch away.
Liam just loves taking Rocco's legandary dick up his sweet hole. They end up fucking in every position possible and leave us with a very happy ending!   
Liam Cyber takes Rocco Steele's Cock in his Mouth and his Ass!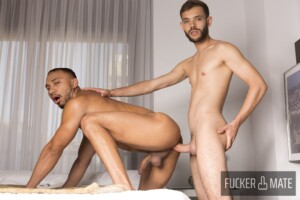 FuckerMate – Morning Lust with Tommy Dreams and Dani Brown Fuckermate's Columbian stud muffin Dani Brown has just woken up. Dani cannot stop thinking about his master fuck with Tommy Dreams. Lucky for us we are invited inside his head, and go back to the time when the duo hooked up. Tommy appears fully exposed
Read More »