Keeping the Company's CEO Happy!
Sir Peter & Valentin Amour Bareback in the Office - Lucas Entertainment
Lucas Entertainment continues it's businessman theme this week. Sir Peter is a man of few words, but he has a lot of swagger at work. As the main man in charge, everyone aims to please him, men and women alike, and his masculine and strong good looks only add to his powerful and stoic charisma.
Valentin Amour has been working tirelessly to capture the attention of Sir Peter, but he never stopped to consider if he'd be able to handle such a man if he caught his sexual prey. Well, Valentin Amour has finally earned that performance review he's been angling for, and he's about to find out just what kind of a hard (in the) ass Sir Peter can be!
Bubble Buttom Bottom Gets His Ass Service by Boss Man Sir Peter!
Tell us what you think of this movie - Comment Below.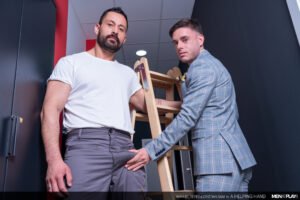 Men at Play Presents a Helping Hand Starring Manuel Reyes and Cristian Sam Manuel Reyes reluctantly stayed late to let in the technician who was coming to repair the projector before a board meeting the next day. He was taken aback when he saw Cristian Sam, dressed in grey worker pants and a white t-shirt,
Read More »