Men at Play's - New Year 2021 Celebration!
Massimo Piano & Philip Zyos - Men at Play - Wrong Placem Right Time!
Talk about being in the wrong place at the right time at Men at Play. Just when we least expect it the best things can happen when you don't expect them to. Suited and booted business executives Massimo Piano & Philip Zyos end up on a course for business marketing. There is one issue, they have both turned up at the wrong place. The bigger issue is that they both fancy the arse off one another and so they waste no time in getting to know the sexual business, better. Massimo gets down to devouring Philip's juicy cock and makes a complete meal of it. They both end up fucking hard and deep, leaving us breathless and working up a sweat. 
Business Executives Massimo Piano & Philip Zyos Fuck at Men at Play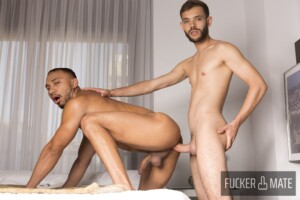 FuckerMate – Morning Lust with Tommy Dreams and Dani Brown Fuckermate's Columbian stud muffin Dani Brown has just woken up. Dani cannot stop thinking about his master fuck with Tommy Dreams. Lucky for us we are invited inside his head, and go back to the time when the duo hooked up. Tommy appears fully exposed
Read More »