Men at Play - 2 of a Kind with Dani Robles & Teddy Torres
This week at Menatplay.com hunky Teddy Torres and the delicious Dani Robles are having a drink after a hard day in the office. They decide to play a game of cards but with a twist. Usually there is is only one winner at the end of the game. The winner usually takes it all. Well this time both suited and booted guys take each other. Teddy declares that he would like a rematch but first Dani reminds him of the special rules. 
Once someone has won, then they both take a break from the gambling action, and concentrate on each other. Unzipping Teddy's suit pants to reveal a rock hard cock, Dani drops to his knees and starts sucking. Teddy's dick is quite some to admire, and it is clear to see that Dani is enjoying the taste of it. The suited Dani licks all the way from Teddy's big balls all the way to the tip, not missing an inch. 
Now it is Teddy's turn to taste Dani, he bends him over the gaming table, pulls down his pants and buries his face into his ass. Making a meal of his tight hole, he gets it all sloppy and ready for a good old fashioned fucking. Sliding his juicy cock deep into Dani's butt, he thrusts it in and out. It clear to see that they are really into each other. 
After a climatic ending, we are left to wonder if they will play another game of cards, or just skip that part completely. Check out the trailer and photos below and join Menatplay.com to see the whole thing!   

Watch as Dani Robles and Teddy Torres enjoy each other in XXX Action!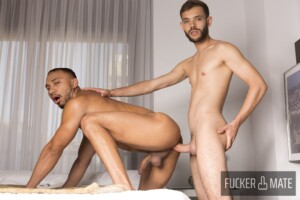 FuckerMate – Morning Lust with Tommy Dreams and Dani Brown Fuckermate's Columbian stud muffin Dani Brown has just woken up. Dani cannot stop thinking about his master fuck with Tommy Dreams. Lucky for us we are invited inside his head, and go back to the time when the duo hooked up. Tommy appears fully exposed
Read More »