Men.com - Men Bang P4 with Ryan Bones, Damien Stone, Ryan Bones & Will Braun
New from the creators of hot gay porn Men.com. Justin Matthews is enjoying playing with the muscle-bound studs of Nutaku.net's MEN BANG, and the sexual occurrences. This time all of his sexual dreams come true and its a gang bang of epic proportions. Out from his computer screen comes Damien Stone, Will Braun, and Ryan Bones.
The foursome takes delight in exploring each other's bodies, cocks, and butts. Will & Justin savour licking Damien and Ryan's thick meat. As a reward, they get their asses eaten good and proper, and then fucked hard! Who needs virtual reality, when Men.com.  bring you sexual reality!  
Damien Stone, Justin Matthews, Ryan Bones & Will Braun all enjoyed their Men Bang!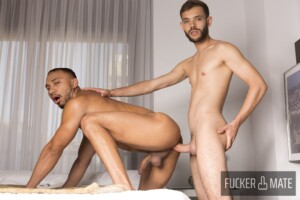 FuckerMate – Morning Lust with Tommy Dreams and Dani Brown Fuckermate's Columbian stud muffin Dani Brown has just woken up. Dani cannot stop thinking about his master fuck with Tommy Dreams. Lucky for us we are invited inside his head, and go back to the time when the duo hooked up. Tommy appears fully exposed
Read More »