Bromo - Fantasy Chamber with Michael DelRay & Jason Collins
Michael Delray has always had a fantasy of being bound and used. Bromo.com decided to make his sexual desires a fantasy and brought along muscle stud Jason Collins to make it happen. Michael's new master is in full control, and he must submit to him fully. Starting off with a paddling session, Michael moans as his ass is slapped hard. This is just the beginning of this sexual adventure. 
Jason wants to fuck Michael, and whatever the master wants, he gets. The pair get down to a hard pounding session pushing the limits. Michael's hole is begging for more, so Master Collins pulls out some dildos. Moaning as the toys fill his eager hole, Michael's fantasies are fulfilled. 
Michael DelRay Gets his Butt worked out by Master Jason Collins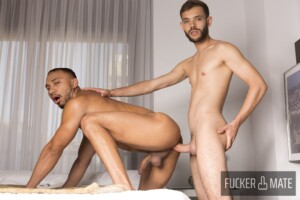 FuckerMate – Morning Lust with Tommy Dreams and Dani Brown Fuckermate's Columbian stud muffin Dani Brown has just woken up. Dani cannot stop thinking about his master fuck with Tommy Dreams. Lucky for us we are invited inside his head, and go back to the time when the duo hooked up. Tommy appears fully exposed
Read More »