An afternoon of Spanish Fun with Ray Crosswell & Niko Demon
We love it when Fuckermate.com introduces a newbie into the mix. This week then have found one of the most stunning men and landed him straight in front of the cameras. The new guy aka Ray Crosswell, is paired up with the equally gorgeous Niko Demon for an afternoon full of sexual passion. If you like a little dom and sub action then you really get it in this one. Niko dominates Ray's mouth into sucking deep on his monster cock, and then uses his fuck hole deep, hard and raw! 
Santi Konnor couldn't wait to get his hands on Ray Diesel and his massive cock!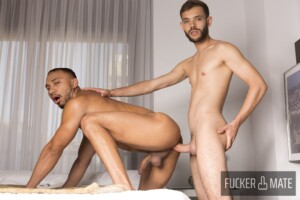 FuckerMate – Morning Lust with Tommy Dreams and Dani Brown Fuckermate's Columbian stud muffin Dani Brown has just woken up. Dani cannot stop thinking about his master fuck with Tommy Dreams. Lucky for us we are invited inside his head, and go back to the time when the duo hooked up. Tommy appears fully exposed
Read More »