Noir Male - Wesley Woods & Avatar Akyia - You Get What You Pay For
Coming 6th March at NoirMale.com the delicious Avatar Akyia is in the mood for a deep tissue massage. He gives a call down to concierge and southern hunk Wesley Woods promptly arrives poolside to offer up his services. The duo make their way inside to Avatar's luxurious penthouse suite. There is just once slight little issue, Wesley has forgotten all off his equipment! Well things get very interesting from this point.
Avatar needs his muscles rubbing and so they decide to use whatever to hands. Wesley grabs the oil and starts massaging Avatar's fit and firm body. As Wesley rubs his clients bubble butt, he decides to be cheeky and massages his tight hole with his tongue. The reaction from Avatar is nothing but positive and they forget the massage and decide to work out one another's body's, not missing an inch. From cock sucking, to ass eating and flip fucking along the way this is one of those scenes you will enjoy, over and over again! 

Lucky that Wesley Woods forgot his Massage Equiptment, Avatar Akyia didn't complain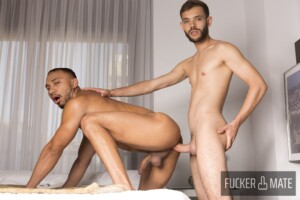 FuckerMate – Morning Lust with Tommy Dreams and Dani Brown Fuckermate's Columbian stud muffin Dani Brown has just woken up. Dani cannot stop thinking about his master fuck with Tommy Dreams. Lucky for us we are invited inside his head, and go back to the time when the duo hooked up. Tommy appears fully exposed
Read More »