Noir Male - Morning After with Tigger Redd & Cade Maddox
Launching 19th April at NoirMale.com we are super excited to see this movie! The silky smooth Tigger Reed is matched with the super stud Cade Maddox.Tigger is desperate to sort out Cade's drinking habits, so he hatches a plan. As Cade is lying in bed with a slight hangover, Tigger appears at his bedroom door dressed in bathing but a tight pair of briefs. He gets into bed and lays next to Cade and discussed the night before. Now it is time for Tigger to show him how the morning after can be just as fun!
So as they discuss things, things soon turn to the subject of sex, and before long the pair start have the morning sex that we can all dream about. The pair enjoy some nice sexual oral sex but slurping on each other's morning glories.. Case is in the mood for some delicious tasting hole and enjoys a feast on Tigger's butt. As Tigger's hole is nice and wet, there is only one things on their minds. Fucking, and boy do they go at it. Tigger takes all of Cade's massive dick not missing an inch. If you look up passion in the dictionary then this will be the first things that comes up. Bravo to Noiremale.com for another sexy movie, and we hope to see part 2 of these guys in action every soon! 

Jackson Reed Couldn't wait to try some of Jason Vario's Thick Meat!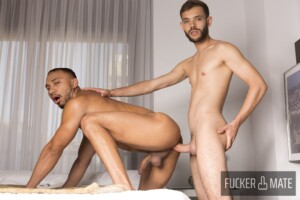 FuckerMate – Morning Lust with Tommy Dreams and Dani Brown Fuckermate's Columbian stud muffin Dani Brown has just woken up. Dani cannot stop thinking about his master fuck with Tommy Dreams. Lucky for us we are invited inside his head, and go back to the time when the duo hooked up. Tommy appears fully exposed
Read More »