Raging Stallion - Raw Construction with Grant Ryan & Ricky Larkin
Launching 8th March at RagingStallion.com. Grant Ryan is hanging drywall when Ricky Larkin comes in to check up on his work. Grant's work is all wrong and it sends Ricky into a rage. The only way Grant can prove his worth and convince Ricky not to fire him is to render his services on Ricky's big dick. Grant eagerly drops to his knees as Ricky drops his pants to the floor. Grant's wraps his warm mouth around Ricky's cock and makes sure Ricky is fully erect, so Grant can sit back to let Ricky slide into him balls deep.
Grant hops on top of Ricky's fat, raw dick and bounces up and down, keeping Ricky on the edge and ready to burst. Ricky isn't done just yet though and throws Grant onto his back with his legs splayed. Ricky shoves his bare cock inside once again and continues the relentless pounding until he dumps his load all over Grant's hairy crotch. Ricky scoops up the cum with his dick and shoves it all back inside Grant's throbbing hole. The feeling of Ricky's dick sliding around in his cum-filled ass is all it takes for Grant to let loose and blow his own load all over his own hairy body.

Grant Ryan Enjoys Every Inch Of Ricky Larkin and His Monster Cock!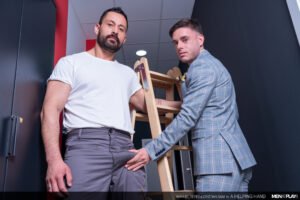 Men at Play Presents a Helping Hand Starring Manuel Reyes and Cristian Sam Manuel Reyes reluctantly stayed late to let in the technician who was coming to repair the projector before a board meeting the next day. He was taken aback when he saw Cristian Sam, dressed in grey worker pants and a white t-shirt,
Read More »