Bromo - Rough & Wet with Ryan Bones & Edan Wolf
This week at Bromo.com muscle bound Ryan Bones has athletic Edan Wolf chained up and hungry for a nice thick dick. Thing is Ryan is going to make him wait before he gives him the rough ride that he needs. Ryan teases Edan's mouth with his hard cock. Insisting that before it goes up his butt, he gives him a nice long and sloppy blow job first.
Once Ryan is satisfied with his oral servicing, he tears open Edan's underwear. He devours Edan's hungry hole with his tongue and then gives him the rough fucking that he has been aching for.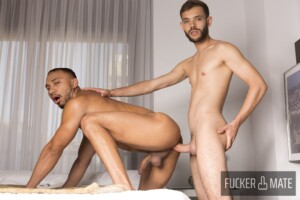 FuckerMate – Morning Lust with Tommy Dreams and Dani Brown Fuckermate's Columbian stud muffin Dani Brown has just woken up. Dani cannot stop thinking about his master fuck with Tommy Dreams. Lucky for us we are invited inside his head, and go back to the time when the duo hooked up. Tommy appears fully exposed
Read More »